Migrating out of Poverty Research Programme Consortium focuses on the relationship between internal and regional migration and poverty in Africa and Asia. It is funded by the UK's Department for International Development and coordinated out of the University of Sussex.

Our main goal
The goal of Migrating out of Poverty is to maximise the poverty reducing and developmental impacts of migration and minimise the costs and risks of migration for poor people.
Although migration does not necessarily lead to such positive outcomes, Migrating out of Poverty is working to produce research which sheds light on the circumstances in which migration can most effectively reduce poverty.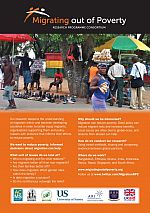 Programme leaflet
The Migrating out of Poverty programme leaflet has the kinds of issues we look at and our work on gender in particular.
Latest blog